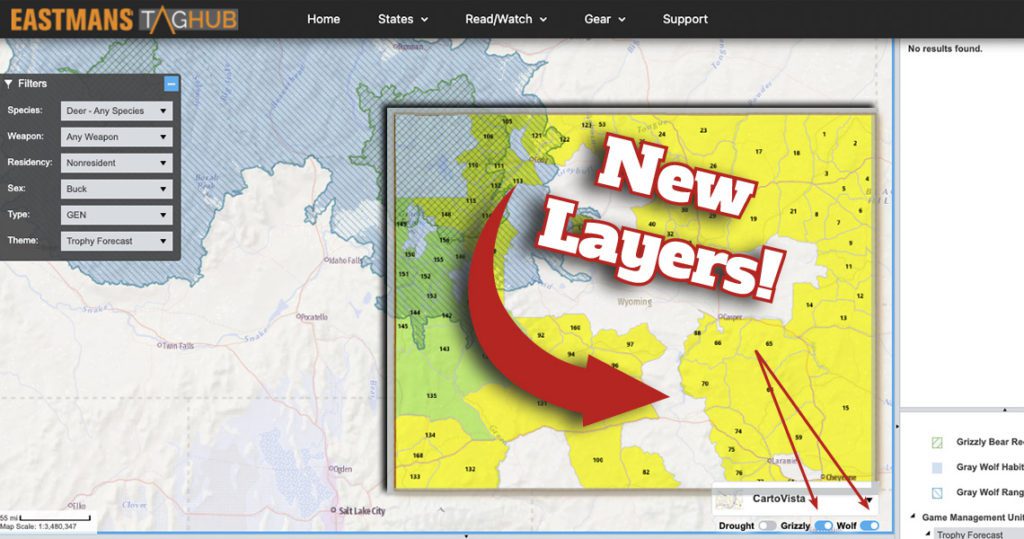 TagHub New Feature | Grizzly and Wolf Layers
By Scott Reekers
As this magazine hits your mailbox, there is a very real chance you are sitting on a couple of tags. Or on the other end of the spectrum, you have zero tags and are diving deeper into the data, hoping that next year will be your turn to have a tag or two in your pocket. 2021 has been a bear for a lot of western hunting applicants and until the memory of empty meat racks in grocery stores fades, this may be normal. Whether you were one of the lucky ones who beat the odds this year or are searching for hope for next season, Eastmans' TagHub has a pair of excellent new layers that make a big difference for the western hunter planning application strategies. 
 The first layer shows grizzly bear distribution and core areas. One of the most common questions we get here at the office during application season is, "Are there grizzly bears there?" This layer makes it very easy to see where the core of the grizzly bear areas are and what hunt units have a large population of the grumpy bruins. Do grizzly bears bother you? Great, avoid them if they do. Are you keen on an adventure in their home territory? Go for it and hunt that country. Either way, TagHub will show you exactly where they are and are not.
The other layer is from the same vein, but for a different, even more controversial animal. This new layer shows wolf distribution across the West, making it clear where there will be population fluctuations with big game animals due to predation. Elk are the animal that have taken it on the chin with wolf reintroductions and with Colorado now throwing its elk population to the perils of wolf predation, this layer will be very insightful. 
These layers will be updated annually with more features coming in the future! Don't miss out on the research tool designed to help YOU, the hunter, find the hunt that meets your wants and needs!
Learn how to stay safe in bear country whether you are hiking, camping, hunting or backpacking. Grizzly bears and black bears can both be dangerous, but you can be prepared. Taking steps to limit your chance of a bear encounter is the best thing you can do.